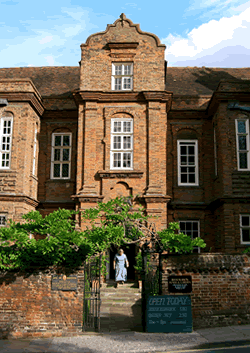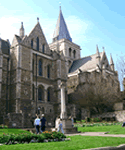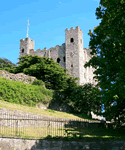 More Information
For further information regarding opening hours etc. telephone Medway Visitor Information Centre

Their website is:
www.medway.gov.uk/tourism

Other Useful Links:
Rochester Cathedral
www.rochestercathedral.org

City of Rochester Society
www.city-of-rochester.org.uk

Restoration House
www.restorationhouse.co.uk

Fort Amherst
www.fortamherst.com

Royal Engineers Museum
www.remuseum.org.uk

Chatham Historic Dockyard
www.thedockyard.co.uk

Rochester Castle
www.castles-abbeys.co.uk/

Guildhall Museum
www.medway.gov.uk

Upnor Castle
www.medway.gov.uk

Kingswear Castle paddle-steamer
www.pskc.freeserve.co.uk
Places of interest
There are many places of interest in and around Rochester. To give you some idea of which you could visit depending on how long your stay is, here they are in three groups (click for more info):
For the day-tripper
For the weekender
For longer visits

Events on this year
For more events please visit our Events page.

Walking Tours of Rochester
City of Rochester Society's conducted walking tours of Rochester will resume on Good Friday (14th April) and take place every Sat, Sun, Wed, bank holiday and festival days until the end of September. Tours start from Visitor Information Centre at 2.15pm and are free of charge.

Rochester Ghost Walk Tours
On the last Sunday of each month, discover some of the tragedies that have befallen some of Rochester's historic residents. Meet by the Little Theatre opposite Rochester Railway Station at 7.30pm.
The tour costs £4 per person, and lasts over an hour. For more information please visit www.hauntedrochester.blogspot.com
For the day-tripper
Places close to the shopping area include:
Rochester Castle - One of the best preserved and finest examples of Norman architecture in England. The grounds are good for a picnic stop.

Rochester Cathedral - England's second oldest foundation. Its architecture is Norman and early English.

Guildhall Museum - An excellent and free museum stuffed with interesting artefacts, plus the Prison Hulks experience.

Restoration House & Garden - A unique Elizabethan city mansion. It is "Satis House" of Great Expectations. Limited opening hours.

The Six Poor Travellers (almshouses) - A sixteenth century building once, as its name suggests, was a lodge for weary travellers.

In addition to these there are many other interesting and historic buildings along the High Street.
For the 'weekender'
Some half- day visits are suggested;

Upnor Castle - A short way out of the city, this splendid 16th century fortification stands on the banks of the Medway, in the quaint village of Upnor.

Fort Amherst - On the hills overlooking Chatham and the river stands this rambling Napoleonic fort with its huge network of tunnels. One of several forts that encircle the Medway Towns.

Gads Hill Place - Once the home of Charles Dickens is a few miles from Rochester, at Higham

Royal Engineers Museum - In Gillingham, is a fascinating collection of exhibits charting the history of military engineering through the years.
For longer visits
Chatham Historic Dockyard - Needs a whole day to make the most of a visit. It includes the R.N.L.I. national lifeboat collection; Kent Police Museum; a working ropery; plus 3 historic ships are on display – HMS Cavalier, Britain's last remaining WWII destroyer, the submarine HMS Ocelot and after restoration, the last Victorian sloop, HMS Gannet.

Enjoy a trip on the Kingswear Castle paddle-steamer - details from Visitors Centre.
Enjoy your stay!